Top Ten Tuesday is a weekly feature hosted by The Broke and the Bookish, and the theme this week is one I very much enjoyed thinking about – settings in books that I would love to visit. There's not quite ten here, but close enough!
1. Sempere & Sons Bookshop in Barcelona (The Shadow of the Wind, Carlos Ruiz Zafon)

This is still one of my all-time favourites. Ruiz Zafon does such a beautiful job at evoking post-war Barcelona and this treasure trove of forgotten books.
"Every book, every volume you see here, has a soul. The soul of the person who wrote it and of those who read it and lived and dreamed with it. Every time a book changes hands, every time someone runs his eyes down its pages, its spirit grows and strengthens." 
2. 19th century London (in almost any text by Dickens)
An unconventional choice, given that 19th century London was taken to be a pretty diabolical place if you weren't filthy rich. However, there's a part of me that would love to see Dickensian London in all of its grimy splendour.
"Smoke lowering down from chimney-pots, making a soft black drizzle, with flakes of soot in it as big as full-grown snow-flakes — gone into mourning, one might imagine, for the death of the sun. Dogs, undistinguishable in mire. Horses, scarcely better; splashed to their very blinkers. Foot passengers, jostling one another's umbrellas in a general infection of ill-temper, and losing their foot-hold at street-corners, where tens of thousands of other foot passengers have been slipping and sliding since the day broke…"
3. 1950s New Orleans (A Streetcar Named Desire, Tennessee Williams)

I love Tennessee Williams, and it was a dream come true to visit New Orleans last Spring – and again this Autumn!
"It is first dark of an evening early in May. The sky that shows around the dim white building is a peculiarly tender blue, almost a turquoise, which invests the scene with a kind of lyricism and gracefully attenuates the atmosphere of decay. You can almost feel the warm breath of the brown river beyond the river warehouses with their faint redolences of bananas and coffee."
4. Hogsmead (Harry Potter, J.K. Rowling)

No explanation needed! The closest I got to this was visiting the Harry Potter park at Universal Studios…
"Hogsmeade looked like a Christmas card; the little thatched cottages and shops were all covered in a layer of crisp snow; there were holly wreaths on the doors and strings of enchanted candles hanging in the trees."

5. Dublin at the turn of the century (anything by James Joyce)

Again, another perhaps unconventional choice, but since this city captured the imagination of so many great novelists during this time period, I would love to turn back the clock and take a visit.
"A few light taps upon the pane made him turn to the window. It had begun to snow again. He watched sleepily the flakes, silver and dark, falling obliquely against the lamplight. The time had come for him to set out on his journey westward. Yes, the newspapers were right: snow was general all over Ireland. It was falling on every part of the dark central plain, on the treeless hills, falling softly upon the Bog of Allen and, farther westward, softly falling into the dark mutinous Shannon waves."
6. Hobie's antiques shop in New York (The Goldfinch, Donna Tartt)

I'd love to go anywhere in Donna Tartt's imagination, to be honest, but Hobie's Antique's Shop has to be one of my favourites…
"…Without even realizing it you slipped away sometimes into 1850, a world of ticking clocks and creaking floorboards, copper pots and baskets of turnips and onions in the kitchen, candle flames leaning all to the left in the draft of an opened door."

7. The garden (The Secret Garden, Frances Hodgson Burnett)

A childhood favourite, including the wonderful film that really brings the garden alive. Reading this brings back so many memories.
"The sun shone down for nearly a week on the secret garden. The Secret Garden was what Mary called it when she was thinking of it. She liked the name, and she liked still more the feeling that when its beautiful old walls shut her in no one knew where she was. It seemed almost like being shut out of the world in some fairy place … She was beginning to like to be out of doors; she no longer hated the wind, but enjoyed it. She could run faster, and longer, and she could skip up to a hundred. The bulbs in the secret garden must have been much astonished … The sun could get at them and warm them, and when the rain came down it could reach them at once, so they began to feel very much alive."
8. 1920s Kensington (Mrs Dalloway, Virginia Woolf)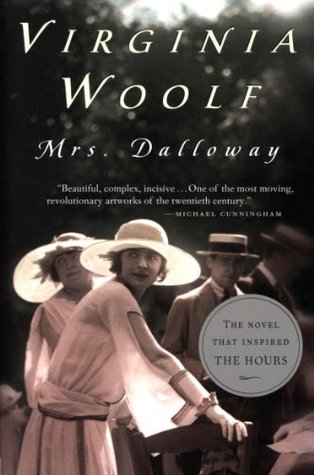 If you haven't yet realised, I'm a huge VW fan and grew to love her whilst studying for my BA in London — what better a place than in the city she loved.
"Such fools we are, she thought, crossing Victoria Street. For Heaven only knows why one loves it so, how one sees it so, making it up, building it round one, tumbling it, creating it every moment afresh; but the veriest frumps, the most dejected of miseries sitting on doorsteps (drink their downfall) do the same; can't be dealt with, she felt positive, by Acts of Parliament for that very reason: they love life. In people's eyes, in the swing, tramp and trudge; in the bellow and the uproar; the carriages, motor cars, omnibuses, vans, sandwich men shuffling and swinging; brass bands; barrel organs; in the triumph and the jingle and the strange high singing of some aeroplane overhead was what she loved; life; London; this moment of June."